There are countless Instagram Apps out there that will help you get to the next level of Instagramming.
We share Cyber PR's 7 favorites here…
Flick.Tech
Flick.Tech an incredible hashtag researching tool. Their Hashtag Suite is $10.49 USD a month, but it is money well spent. If you connect your account, it will also use suggested hashtags in your search. Once you type something in to their search bar, make sure you are in Graph View to see all of the hashtags it has branched out for you from that one word. You can also expand a hashtag by right clicking and selecting the magnifying glass. The best part about this tool is that as you hover over hashtags, it shows you how many posts are under it and what the average likes & comments on posts in this hashtag are. Once you select one, it will fall into one of three categories: Low, Medium, or High Competition. You're going to want to select 5 hashtags in each of these groups and use them in your posts!​
Display Purposes
Display Purposes is another great hashtag tool for Instagram. You can type in one of your favorite hashtags, or one relevant to what you're posting, and it will automatically create a hashtag cloud for you. We do recommend looking at these before copying. If any seem irrelevant, or too large, there is a list below the cloud with some other hashtag options. It's the quickest and most efficient way to auto-populate a hashtag cloud.
These hashtags are so meaningful. Deep, man, deep.
Afterlight
Afterlight is a photo editor app. It's chock full of gorgeous filters, separated by different categories. Along with these filters come more editing tools like brightness, contrast etc. that allow you to make your photos entirely unique. They even have textures that you can apply to your photos to make them seen vintage or dusty. There are also various frames and sizing options to help your photos stand out.

VSCO
VSCO is also a photo editor Instagram app It has another array of filters that come along with it. VSCO comes with similar tools like brightness and contrast, but also has a more extensive toolbox. There are tints you can put on your photos to make them slightly one color or another. Another cool thing that comes with VSCO is the feed. You can post the photos you edit to your own VSCO feed, as well as uploading them to Instagram. That way, if you edit a photo and want to save it for posting to Instagram at a later date, you can put it in your feed instead of having a bunch of photos clog your camera roll (and your content will be preped and ready!)
Later
Later is the #1 Instagram Scheduler on the internet. You can visually plan, schedule, and automate your posts for Instagram (as well as Facebook, Pinterest, and Twitter). Our favorite feature from Later is the Visual Calendar. It makes visualizing a beautiful Instagram feed as easy as counting to 10!
Canva
If you've read our blog posts before, you've likely heard us praise Canva countless times. It is a graphic design editing website that houses beautiful templates for Instagram and Instagram Story posts (as well as countless other social media templates). They have countless free stock photos, graphics, shapes, frames, fonts, etc. It's like Photoshop for Dummies! If you haven't started using it yet – start now.
Boomerang
Boomerang is an app that allows you to record a short video and then plays it forward and backward in a loop. It's a cool way to add a creative spin to some of your posts! Every time we post a Boomerang we get great results. It's the easiest Instagram App in this lineup to use. You can also use this directly in the Instagram app for Instagram Stories (we highly recommend this!).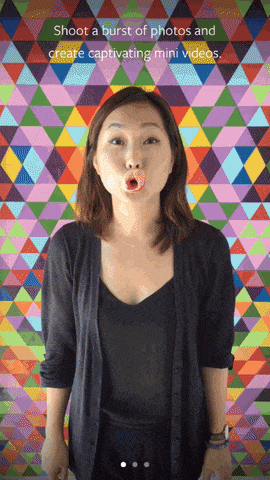 Want to see our 7 favorite musicians to follow and emulate on Instagram? click here.